SUSTAINABLE DESIGN • ENVIRONMENTAL RESPONSIBILITY
Claudia realized the necessity of reducing waste after working on a large residential renovation that included 15 foot draperies, unwanted new appliances, cabinetry, hardware, excess tiles, boxes, crates and much more.  Without creating a system for donating and recycling, most (if not all) of these items would have ended up in a landfill. As a team with multiple international backgrounds, we are passionate for the environment and have found it extremely important to minimize our impact where we can.
In the past year, Claudia has made several talks on the topic to share our efforts and learn from our peers. Together with our clients and partners in the Los Angeles design community, we strive to make this a key focus for 2020 onwards. 
TIMELESS DESIGN • LESS WASTE
The interiors we design are made to last and be loved for decades. To us, timeless design always win over trends. 
CAREFULLY SOURCED • LOCALLY MADE
While we do source many items internationally, we're constantly educating ourselves on our vendors' manufacturing processes and are conscious of our vendors' return and reuse policies.
The majority of our workrooms for bespoke furniture are local. Having our upholstery teams, furniture builders, and millworkers close by means more control of the process, short transportation, and minimal impact.
RECYCLE • DONATE
New stuff in means old stuff out. It's incredibly important to us to minimize the waste while renovating our clients homes. We work with several local organizations that help us recycle fabrics and materials, and find new homes for furniture, appliances, plumbing fixtures and more.
DID YOU KNOW?
A majority of furniture (80.2%) was landfilled in 2017. If a furniture piece is in bad condition and not eligible for reuse or donation, many pieces can be recycled rather than landfilled. Please contact your city for ways to recycle your old belongings.
95% of textiles can be recycled. If your old clothes or home textiles can't be reused, the textile fibers can be repurposed to a number of things. Your old drapes might get a new life as pillow stuffing!
Contact us to find out more!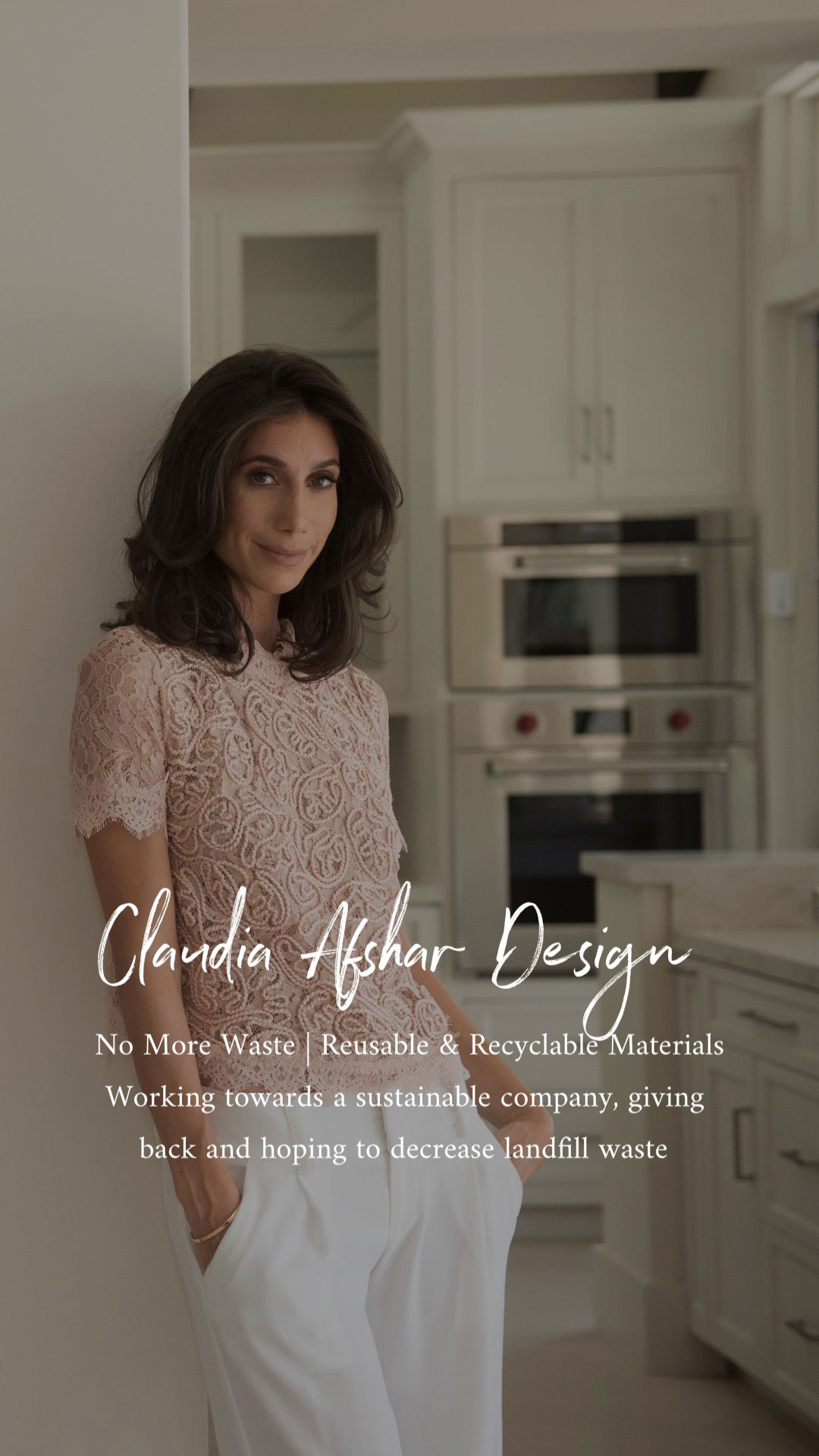 THE FIRST LOS ANGELES DESIGNER TO JOIN WITH GFDA
In 2021, Claudia Afshar became the first Los Angeles-based designer to align themselves with the Good Future Design Alliance (GFDA). The Good Future Design Alliance is a community of design + build professionals dedicated to reducing our total waste by 50% over five years. Learn more here.